Teacher Training Program
Director: Michael Parkinson
The teacher training program at the Alexander Technique Centre Vienna was established with the approval of the Society of Teachers of the Alexander Technique (STAT) in 1996. Graduates from this program are eligible for STAT certification and full teaching membership of the society. All STAT-approved training schools either in the UK or elsewhere must follow strict guidelines agreed upon by the Affiliated Societies of the Alexander Teachnique (ATAS). For full information about STAT and ATAS please visit their websites: www.stat.org.uk and www.alexandertechniqueworldwide.com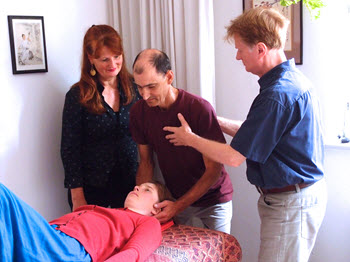 The teacher training program requires students to attend 1600 class hours spread over a minimum of 3 years. Each academic year is divided into three trimesters, with the usual school holidays and mid-trimester breaks. Currently the classes are held from Monday through Thursday from 09.00 until 12.45. Subject to availability, new students may join the program at the beginning of any trimester during the academic year. Although no specific academic qualifications are required, it is necessary to have had some personal experience of Alexander Technique before joining the program; either through individual lessons or group classes/workshops etc. Although the classes are held in both English and German, a working knowledge of English is necessary as much literature pertaining the the Alexander Technique is only available in English.
The teacher training program also offers ongoing study to graduates from other training programs. Post-graduate weeks, months or terms are offered subject to place availability. We also welcome exchange students on either a daily or weekly basis.
New in Autumn 2015
From September 2015 we are offering the possibility to join the teacher training program for either a half or whole trimester of intensive practical study. Participants who decide thereafter to continue with the teacher training program will be credited with this time. Please email or call for further details and conditions.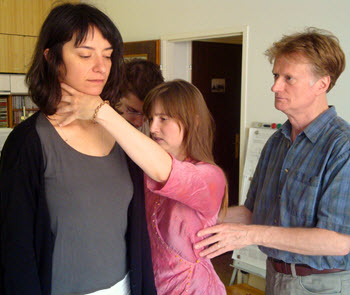 For more detailed information about the teacher training program (curriculum, fees, future term dates etc), please write to Michael Parkinson at: michaelcparkinson@gmail.com or call 0043 676 9414212
Please specify whether you would like to receive the information in English or German.
In accordance with STAT training course regulations there is a minimum teacher/student ration of 1:5.The current teaching faculty are:
Michael Parkinson: head of training (Walter and Dilys Carrington, London)
Herbert Steger:1st assistant/anatomy teacher (Michael Fortwängler, Freiburg)
Sharon Higginson: guest teacher and STAT assigned moderator (Jeanne and Axel Haar, Totnes, Devon)
Marie Orsini-Rosenberg: assistant (Michael Parkinson, Vienna)
Theodora Kapellou: assistant (Michael Parkinson, Vienna)
The names in brackets indicate where the teachers were trained.
All teachers regularly participating in the teacher training program are members of STAT and of the Austrian Society of Alexander Teachers (GATOE).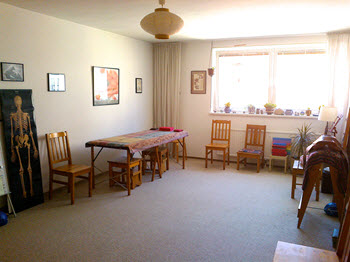 The main teaching room
Over the past few years we have made a number of exchange visits to other teacher training schools in Europe. Since our visit to Daniela Bottaro's school in Vicenza, Italy in 2006 we have visited the Brighton Alexander College (Carolyn Nichols), made three visits to the Alexander-Technik Ausbildungszentrum in Munich (Mary Holland/ Alexander Hermann), the Ausbildungszentrum fuer Alexander-Technik in Berlin (Irmel Weber), and most recently in May 2015 to the London Centre for Alexander Technique and Training (Refia Sacks).
We have had the pleasure of visits to our school in Vienna from the school in Belgium (formally Betty Langford), and most recently the AT Ausbildungszentrum from Munich (Holland/Hermann).


Class exchange with students from Munich
These exchanges have proved to be enjoyable and enriching experiences for both the students and teachers who have accompanied them. More exchanges are planned for the near future.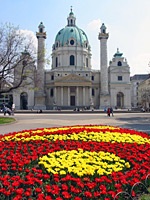 Karlskirche, Vienna



The Alexander Technique Centre is located in Vienna´s 5th district near to the famous Naschmarkt, and only a 20-minute walk from downtown Vienna. Austria´s capital city is one of the cleanest and safest in the world, offering a much admired infrastructure, lots of green open spaces and a wealth of cultural interest.
Read more.






Photograph 1 by John Moraitis
Photographs 2 and 4 by Theodora Kapellou